Technical information
STRUCTURE:
Fibre Reinforced Plastic
Aluminum (5077)
Stainless Steel (316)

UPHOLSTERY:
Fire Retardant Foam
Reinforced Nylon Laminated Neoprene
Heavy Duty Cordura Laminate (Optional)

DIMENSIONS
Seating Heights (deck to seat pan):
Low: 700 mm (27.5″)
Medium: 750 mm (29.5″)
High: 800 mm (32.0″)

Base Width: 250 mm (10.0")
Base Length: 480 mm (19.0")

STROKE: 150 mm (6″).

WEIGHTS:
Without Base: 16 kg (36 lbs)
With Base: 21 kg (53 lbs)
Biscaya
The No. 1 in Marine Jockey Seats
The Ullman Biscaya Jockey Seat is designed to protect the crew and passengers of high-speed craft from injury.
The seat design optimizes body posture while the Ullman Semi-Active Progressive Shock Mitigation System takes care of the high forces during impact.
The Ullman Biscaya Jockey Seat has a high backrest for maximum comfort and support plus long saddle sides for optimal lateral support in a straddling position. To further improve seating geometry, the Ullman Biscaya includes two handles manufactured of stainless steel (316) that give wider support for passengers behind the seat. A zipped neoprene pouch for gear is located on the rear of the backrest.
The Ullman Semi-Active Progressive Shock Mitigation System, provides unsurpassed shock mitigation, allowing the human muscular reflex system to synergize with the mechanical suspension, resulting in mitigation of 76% of the impact exposure.
Ullman Biscaya seats are the adopted benchmark standard in many navies and coast guards around the world. They are in use in more than 50 countries worldwide.
Materials
The entire Ullman marine seating range is made from all non-corrosive materials, all fully compliant with the toughest military specifications. The water resistant upholstery is designed for use on open boats in extreme conditions. Each seat is delivered with UV-protected Weather Protection Covers.
Accessories
The Ullman Jockey Seat Biscaya is available on the Ullman GRP bases in three different heights.
Optional accessories include Adjustable Dampers, Foldable Footrests, Armrests, Lateral supports, Front Seat Handles, Black thermal insulated PUR-Handles, Air-Tech Lap Belt, Cordura™-covers and Waterproof Hatches for gear stowage inside the seat base.
Biscaya features
High backrest for maximum comfort and support.
Longer saddle sides for optimal lateral support in straddling position.
Extra padding on the front of the backrest and over its top.
Two handles – wider support for passengers behind.
Common Features on all Ullman Jockey Seats
Ullman Semi-Active Progressive Shock Mitigation System
Handles and mitigates high forces during impact.
Synergizes with human muscular reflex system.
Reduce impact exposure by 76%
Self-cooling, highly progressive damper.
Seating Geometry
Shaped to protect the operator from injuries in all conditions.
Ensures optimal posture of body and spine to withstand impact.
Activates the human natural reflex-based muscular protection system.
Distributes impacts between arms and legs to protect back and neck.
Self-adjusting height depending on weight. Lighter users sit higher.
Extra Features
Water and UV protective seat cover.
Zipped neoprene pouch for gear on backside of backrest.
3 years Limited World Wide Warranty.

Videos - Biscaya
Pete Bethune and his team on new SeaLegs Amphibious RIB
Capsize tests and christening
Accessory: Multi Bases 2.0 & 1.5
---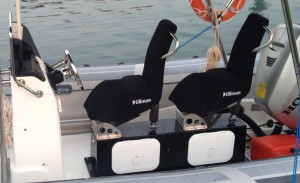 Bases that can be welded with aluminium plates or fibreglass.
These bases can be built to accommodate 1, 2 or more seats in line.
The 2.0 model has both seats completely mounted on top of the base.
The 1.5 model has the damper of the rear seat mounted on the back surface of the base.
Both models are allow very good storage space with hatches.
Accessory: Deck insert bolts
---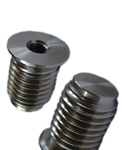 Insert bolts for mounting Ullman Jockey Seats on GRP deck.
Bolts fit flush to deck, no tripping hazard.
Allows for quick and easy removal of the seats and leaves nothing sticking out.
Outside thread: M20
Inside thread: M8
Accessory: Lap belt air tech
---
Where there is risk for capsizing, crews on cabin boats are recommended to use lap belts. This is to prevent head and neck injuries when a boat gets turned upside down. For open high-speed boats lap belts are recommended for the navigator seats. This enables the navigator to use both hands for navigation tasks.
Accessory: Insulation handles
---
Handles with thermal insulation can be fitted to any Ullman seat.
This polymer coating also gives a softer surface and higher friction than stainless steel.
It is very useful for cold climates and in situations where anti-glare is important.
Contact Form
Would you like us to contact you?
User Feedback
From my side, we chose Caribe as our RIB supplier as I had experience of the speed, durability and performance of the Caribe brand, which made it the perfect high-speed response craft for my marina. Originally we did not specify the Ullman seat option due to the increased sale price, but after Caribe convinced [...]