Technical information
Ullman Leaflex Atlantic Suspension Mechanism allows 200 mm travel.
Can be optimized to any specific vessel.
Atlantic
The Ullman Atlantic Seat is designed to protect the crew and passengers of high performance craft from injury. The seating geometry is designed to give passengers the optimal body posture for handling both static and dynamic loads.
The Ullman Semi-Active Progressive Shock Mitigation System with twin shock absorbers provides high levels of comfort in extreme sea conditions. The Leaflex™suspension with twin adjustable dampers allows 200 mm of travel and can be optimised to any particular vessel.
The Ullman Atlantic Seat is designed primarily for cabin boats and to allow straddle position when needed and reclining when possible. The suspension seat has adjustable damper rebound and compression setting plus built-in lateral support. The upholstery uses leather for the external surfaces over multi-layer fire resistant foam for optimal comfort and safety. A UV and water protecting seat cover is supplied. The standard seat colour is black with multiple colour upholstery sets available to order.
Materials
The whole Ullman marine seating range is specified and produced with high quality materials. The Atlantic spring unit is manufactured from multi composites and stainless steel (316). The progressive damper is manufactured from aluminum (5077) and stainless steel (316). The seating unit reinforcements are of aluminum (5083) and the backrest shield is manufactured of pure bi-axis carbon fiber.
Upholstery
ELMOSOFT is a soft and pliable Semi-Aniline leather. Outstanding comfort combined with excellent durability and an extensive shade card. Grain leather from Scandinavian cattle. The leather is dyed through and tested at laboratory. A hide is selected at random from every batch of finished leather and checked in accordance with flame resistance: Ship/off-shore, certificate IMO A652(16)
Accessories
Optional accessories for the Ullman Atlantic seat include seven axis adjustable armrests with built in adjustable multi-purpose joystick or trackball designed for rough conditions.  Heavy duty water resistant vinyl upholstery (IMO Res.A.652(16)) can be specified for open cockpits. An electric or mechanical slide system can be specified for longitudinal adjustment. Seat belt options include 2 or 4 point Air Tech safety belts.
Atlantic Features
Seating geometry gives optimal body posture for handling both static and dynamic loads.
Built-in physiological lateral support.
Ullman Semi Active Progressive Shock Mitigation System.
Twin progressive dampers made of aluminum (5077) and stainless steel (316).
Adjustable damper rebound and compression settings, 6 levels.
Multi-layered fire resistant foam. IMO A652(16)
Foam constructed to allow free airflow under and behind occupant.
Premium quality Scandinavian leather upholstery.
Seating unit reinforcement of aluminum (5083).
Backrest shield of pure carbon fiber.
3 year limited World Wide Warranty.
Important features
All Ullman Seats are designed to protect the operator from getting injured.
The seat design optimizes your body posture while the spring and damping system takes care of the high forces during impact.
Videos - Atlantic
Will be uploaded shortly.
Accessory: Handle Bar Atlantic
---
Handlebar for passive crew or passengers for holding on to the seat.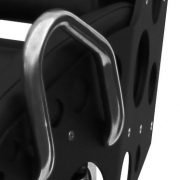 Slim design allows for easy in- and egress as well as minimal lateral space utilization.
The handle is shaped and placed for maximum grip strength and arm strength.
Can be coated for higher friction and insulation.
Accessory: Deck insert bolts
---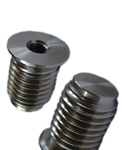 Insert bolts for mounting Ullman Jockey Seats on GRP deck.
Bolts fit flush to deck, no tripping hazard.
Allows for quick and easy removal of the seats and leaves nothing sticking out.
Outside thread: M20
Inside thread: M8
Contact Form
Would you like us to contact you?
User Feedback
"… the Ullman seats were incredible. I've now come to view them as essential safety equipment and I was really impressed with their performance."
- Andy Warrender, Head of the global Fabrics Division of WL Gore & Associates, manufacturers of GORE-TEX® products.